Everything you need to know about RFFE Protocol & debugging RFFE Protocol
What is RFFE Protocol?
RFFE is a two-wire interface that uses unterminated, single-ended CMOS I/Os for lower power. It can be used with a broad range of bus operating frequencies and features synchronous read capability, multi-master configuration, support for carrier aggregation and the use of multiple transceivers, dual-SIM designs and reserved registers that improve the efficiency of hardware and software development.
What are the benefits of MIPI RFFE?
The RF Front-end control interface (RFFE) Serial bus interface is emerging as a chosen for controlling RF frond end devices. There are variety of front end devices such as Power Amplifiers (PA), Low-Nose Amplifiers (LNA), filters, switches, power management modules, antenna tuners. It is widely used in mobile devices.
How to debug MIPI RFFE Protocol?
RFFE Protocol Analyzer (PGY-RFFE-EX-PD) is the Protocol Analyzer with multiple features to capture and debug communication between host and design under test. PGY-RFFE-EX-PD is the leading instrument that enables the design and test engineers to test the RFFE interface for its specifications by configuring PGY-RFFE-EX-PD as master/slave, generating RFFE traffic with error injection capability, amplitude variation and decoding RFFE Protocol decode packets.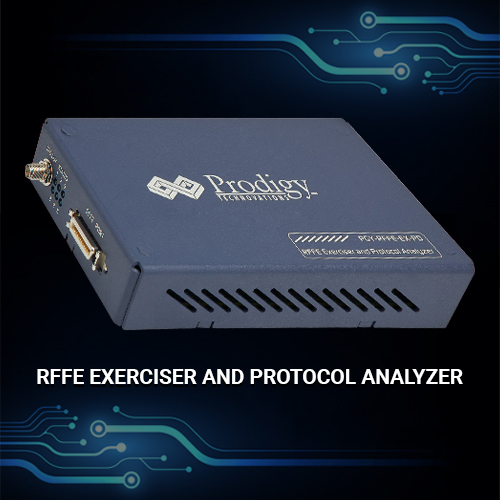 Features of Prodigy RFFE Protocol Analyzer
Multi-Domain View
Multi domain View provides the complete view of RFFE Protocol activity in single GUI. User can easily setup the analyzer to generate RFFE traffic using a GUI or script. User can set different trigger conditions from the setup menu to capture Protocol activity at specific event and decode the protocol transactions between Master and Slave. The decoded results can be viewed in timing diagram and Protocol listing window with autocorrelation. This comprehensive view of information makes it industry best, offering an easy to use solution to debug the RFFE protocol activity.
Exerciser
PGY-RFFE-EX-PD supports RFFE traffic generation using GUI and Script. User can generate simple traffic generation using the GUI to test the DUT. Script based GUI provides flexibility to emulate the complete expected traffic in real world including error injections. In this sample script user can generate RFFE traffic as below.
SET Dynamic Address using slave static
SETMWL with Data Parity Error
GETMWL with Command Parity Error
ENTHDR0 DDR mode with CRC Error
Timing Diagram & Protocol Listing View

Timing view provides the plot of SCLK and SDATA signals with bus diagram. Overlaying of Protocol bits on the digital timing waveform will help easy debugging of Protocol decoded data. Cursor and Zoom features will make it convenient to analyze Protocol in timing diagram for any timing errors.
Powerful Trigger Capabilities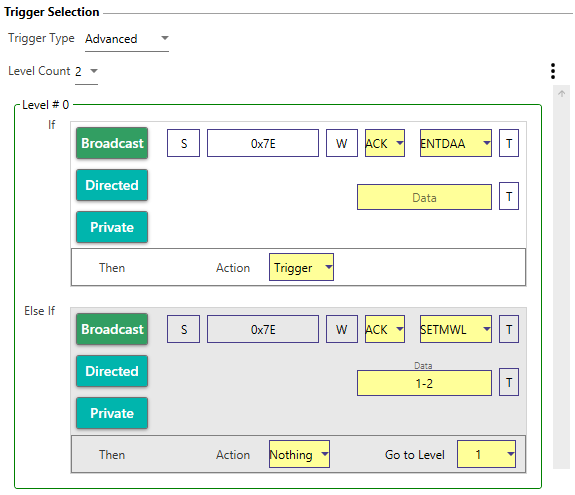 PGY-RFFE-EX-PD supports Auto, simple and advanced trigger capabilities. Analyzer can trigger on any of the Protocol packets such as Ext. Reg. Write, Ext. Reg, read and so forth message. Advanced Trigger provides the flexibility to monitor multiple trigger conditions and can set multiple state trigger machines.
To Download the datasheet  or know more about Prodigy RFFE Protocol Analyzer enter your details here