What is UFS? What is its connection with 5G?
The arrival of 5G is changing the way the smart phone is being used and leading the way to next generation of mobile technology. The smart phone vendors are planning to offer seamless and immersive experience on the mobile devices. 5G offers ultra-fast transfers, low latency and low power consumption on the mobile devices. These high speed data transfer mandate the need for high speed storage interfaces such as UFS 3.0 on mobile devices.
UFS stands for Universal Flash storage and offers high speed data processing than its predecessor, eMMC . These high speed data transfer enables next generation experience such has 8K multimedia streaming and pave way for augmented reality and Virtual reality experience.
What does UFS 3.1 mean?
UFS 3.1  specification supports three new features:
Write Booster : This is designed to increase write speeds by using a pseudo-SLC cache. A similar technology is already present with current generation SSDs.
Deep  Sleep : The new lower power state designed for the UFS devices that use the same voltage regulators for storage and other functions.
Performance  Throttling  Notification : This  enables the UFS device to inform the host about performance throttling when overheating.
UFS 3.1 is the next generation standard after UFS 2.0. UFS 3.1 has very advanced capability to support 5G experiences. UFS 3.1 supports 128,256,512 GB of storage capacity. The data download capacity is up to 1200 MB offering gigabytes of sequential write speeds. UFS 3.1 also supports random read and random write of from 63000 to 68000 IOPS.
How to Debug UFS 3.1 ?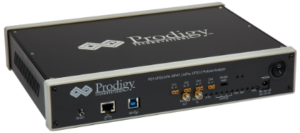 UFS 3.1 debugging is a challenge as its very high speed data transfer. Prodigy offers state of the art debug hardware to Debug UFS protocol.
UFS Protocol Analyzer comes with the following features.
• Ability to decode all layers of Packet
• Supports MPHY 4.0 and backward compatible with UFS 1.8
• Flexible to capture long duration of protocol sequence
• API integration for system level debug and regression testing .