SoC based eMMC/SD Protocol Tester
eMMC/SD Tester is a dedicated industry's first eMMC/SD card tester-based system on chip (SOC). Users can write different protocol tests for eMMC4.41/4.51/5.0 and 5.1 (HS400) and SD3.0 (UHS-I) to test for protocol specifications.
PGY-eMMC/SD-Tester card provides the flexibility to write custom test cases based on different used cases and extensively test the eMMC devices and SD card to ensure reliability of the devices to meet different used cases.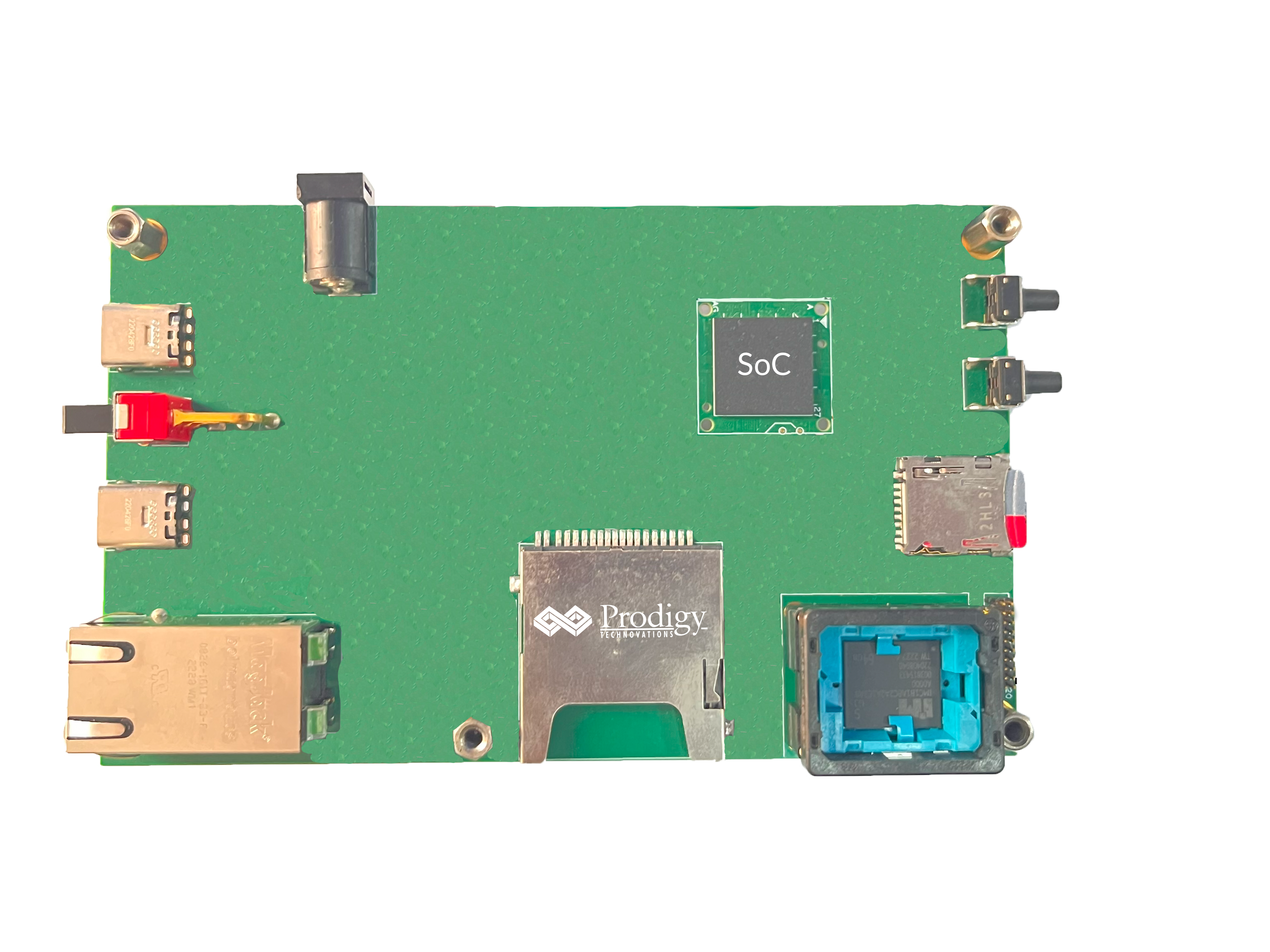 SoC based eMMC/SD Protocol Tester
Prodigy Technovations has developed SoC based eMMC/SD tester card which is controlled using PC using windows/Linux OS. SoC based eMMC/SD card is booted using the linux OS and by default card boots from embedded SPI flash. By booting from SPI flash, provides completes access to test devices such as eMMC and SD card from the initialization state.
Features:
Design and run custom test cases tests for eMMC 4.41, 4.51, 5.0, and 5.1 (HS400), and SD 3.0 (UHS-I) to validate protocol specifications.
SoC-Based Testing with Embedded OS: Control the tester via PC with Windows and Linux compatibility, and benefit from embedded SPI flash booting, ensuring complete device access from initialization.
Compatible with eMMC 4.41, 4.51, 5.0, and 5.1 (HS400).
Supports SD 3.0 (UHS-I)
Host emulation for realistic testing scenarios.
Host Connection via USB 3.0 or 1 GbE Ethernet.
Comprehensive support for all eMMC and SD commands
Specifications
Specifications of eMMC/SD Tester card
Tests
eMMC and SD card
eMMC Standard
eMMC 4.41, 4.51, 5.0 amd 5.1 (HS400)
SD Card
SD3.0 (UHS-I)
Test Devices
eMMC or SD3.0
Emulation
Host Emulation
Embedded OS
Linux
Host Connection
USB3.0 or 1Gbe Ethernet
Protocol Packet Support
All eMMC and SD commands
Similar Products:
Request Quote